Become a
better UX Designer

& land your dream job
Test your design knowledge, enhance your skills, and prepare yourself with hands-on UX design questions
We do not require 💳 payment to start
SOME OF OUR MEMBERS WORK AT

Earn shareable badges
Get SimplifiedUX badges that you can share on social media whenever you complete a workbook.
Find mentors
Mentors on SimplifiedUX are design and UX experts that will provide you with the guidance needed to navigate your design career path.
Get shareable certificates
Share your certificates with recruiters and on other platforms for a well-deserved bragging right.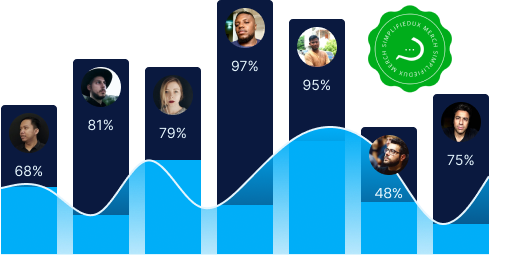 Stand out. Be the best choice.
Our workbook contains over 100+ relevant real-life questions and scenarios that test your knowledge in multiple aspects of UX design.
Connect. Communicate. Collaborate.
I need to come back to SimplifiedUX to be on top of my game. This platform will help make designers more knowledgable.
I am excited to see that there are new things and new concepts that will help me study more and I would recommend this to everyone.
SimplifiedUX saves me the stress as a teacher. I would recommend this to a thousand and one folks.
Ready to land your dream job?
Join several UX designers like you already becoming better with SimplifiedUX
We do not require 💳 payment to start