As much as it is understandable when newbies in Tech want to gain as much knowledge as possible before trying their hands on projects, it is very advisable for you to not wait until you gain a hundred percent knowledge before you start building projects. Actually, no one gains a hundred percent knowledge in any field; that is why it is better that you start trying your hands on UX design projects as soon as you gain the required skills for such projects. "Doing" is one way to learn in Tech, and the more you practice and build projects, the faster you learn. 
Product Design beginners may be a little confused about what projects to build as they begin their careers in Product Design. This is expected, and that is why this article is focused on some of the design projects you can build as a beginner in the UI/UX field of Technology. Additionally, these projects will help make your resume and portfolio richer, and of more substance. It is even easier to land jobs when you have projects that show your skills.
The point is not that you should be perfect on your first try, but try to build something that makes sense.
Before we delve into some of the projects you can build as a UX Design beginner, it is important to state some of the things you should bear in mind before starting any project.
Some Things to Bear in Mind Before Starting UX Design Projects
Research: By now, you should know that in UX Design, research is very paramount. You don't just start building things in the abstract– you find out if those things are relevant to your target users. If they are not, you don't have any business doing them. One of the ways you can conduct research is by carrying out surveys and tests that help you get information from users. That way, you really know what they need and you tailor your project(s) to meet their needs.
Heuristic Evaluation: This is a process of experts examining your planned projects to know whether it is user-friendly enough. If it isn't, they make sure that it becomes that. This will help you as a beginner looking to create good  UX Design projects.
Don't Forget Prototypes: Prototyping is one way you can make sure the end product is what it should be. As much as prototyping is one of the longest processes in UX Design, you must implement your designs through prototypes first, before proceeding to do the final work. In the process of prototyping, you take notes of challenges or things to be improved upon. This process is to make sure that in the end, you design something that gives your users a seamless user experience.
Always Update: Nothing is static in the UX world, and one of the reasons is that you are designing for human beings who are in no way static. For this reason, it is important to always stay abreast of design updates. Apart from general design updates, it is very important to listen to the feedback of your users so that you can update and improve on features where necessary. All this is so that they get a seamless user experience which is the essence of your job as a UX Designer.
7 UX Design Projects For Beginners
Email Template: For a beginner, this is a quick project that you can do to showcase your skills. With this project, you show your knowledge of a company's KPIs (that is, its Key Performance Indicators). What you should do with this project is, try to convert new subscribers into retained customers who pay. Any company would be glad to have something like this done for them. Who doesn't want more leads?
Restaurant Menu: Another project you can build is a restaurant menu. You can do this by making a restaurant's menu into a website, or even an app. It has to be catchy and readable enough so that your users have a beautiful experience. Not only that, this project should be able to draw people to patronize the restaurant. This way, it is a win-win for both you and the restaurant.
Chatbot: A chatbot is a computer program that helps to simulate conversions with humans, majorly with the use of the internet. Designing a chatbot will show that you know about conversational design, information flow, and visual design. To show off your skills in web design, it is advised that you design your chatbot for a website and not a standalone app.
SaaS Dashboard: SaaS stands for "Software as A Service". Designing a dashboard for it will help to clearly show your skills as a UX Designer, as dashboards are highly interactive with their users. It helps them see the full state of their accounts, information about subscriptions, deadlines, etc. So when building a project such as this, bear these elements in mind.
Landing Page: A landing page is the first page that visitors see when they open a site, and so the quality of a landing page would determine if the visitor stays or not. Therefore, designing a very good landing page is one project that shows how good you are as a UX Designer. You want to make sure that the landing page you design can keep visitors and make them permanent customers of that business. 
Mobile App Signup Page: You could design the signup page for a Mobile App. The way you design it would show if you understand what a good UX Design is or not. You want to make use of research to find out what the needs of your users are, to give them a seamless experience as they sign up to the site or app.
Your Favorite App: One exciting project you can embark on, is designing or redesigning a feature for your favorite application. You know the areas that you like and dislike on your favorite app. This is your chance to do some modifications that better the app on one hand, and show your understanding of your users' needs, on the other hand. You however have to explain your modifications and reasons for them to your employer or client. By doing this, it is clear that you really know what you are doing as a UX Designer.
Conclusion
There are many other examples of projects that you can design as a beginner, including the digital interface of an appliance, TV app layout, etc. It is important that you check out the works of other UX Designers; not to copy them, but to know more things and improve your skill. It is also helpful that you belong to a community where you can ask questions and learn more. UX Design is really interesting, and it is good for you to explore and try out different projects that help you hone your skills. Make sure also, that you always put yourself out there and never hide your abilities. You learn more by doing more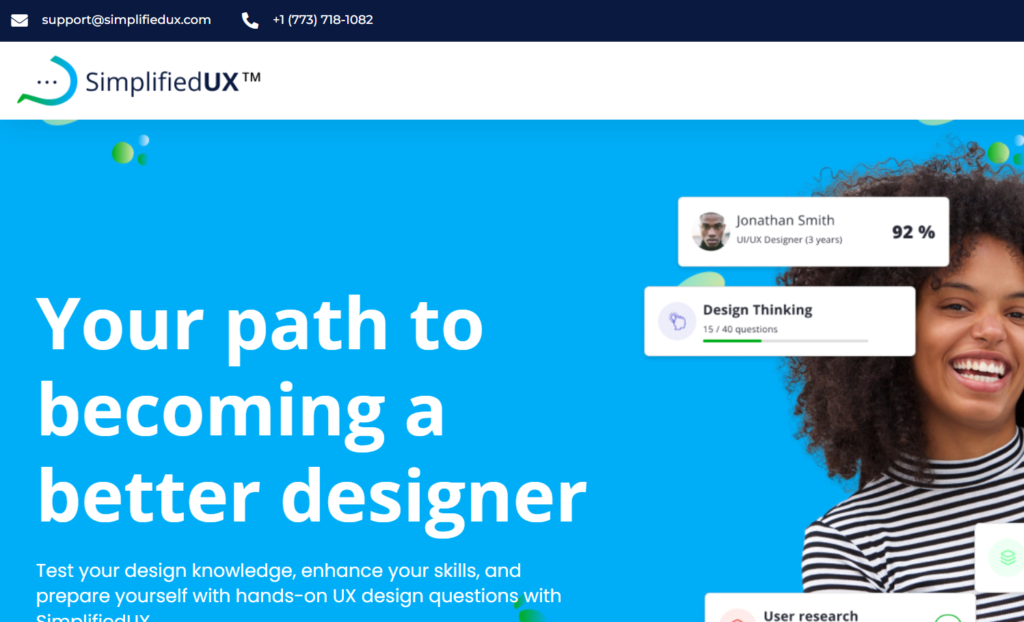 UX Design Projects UX Design Projects UX Design Projects UX Design Projects UX Design Projects UX Design Projects UX Design Projects UX Design Projects UX Design Projects UX Design Projects