In today's tech-driven world, having a tech skill is sure to take you a long way. Most people who do not want to go into the whole techie industry where they have to code and learn different programming languages usually settle to learn UX design. While it is possible to learn UX design by yourself without external help, taking a UX course is an important and beneficial way to learn UX design and gain the knowledge you need to be well equipped for the field and get to good jobs. Fortunately for everyone looking to learn UX design, there are several places online which offer UX courses currently suited to meet a wide range of UX needs.
Before choosing to learn UX design and selecting a course to invest your time, energy and even funds into, it is very important to consider what your goals for learning are. Are you simply looking to just dip your toes into UX design to test the waters? Are you looking to develop your already existing skill set? To get better at websites and app designs? Or are you ready to fully study and learn and commit to gaining UX design skills and knowledge for a pursuit in your UX design career?
Here are 10 places you can learn UX design and get the best skills and experience needed to dive into your career path.
1. Google UX Design Certificate
The Google UX Design Certificate is one of the newest additions to the UX learning space. This is a great place for beginners who are looking for a flexible, easy, low-cost introduction to UX design, The Google UX certificate online course is hosted on Coursera.
The 6 months course will give you in-demand skills which will get you set to face jobs in UX design.
Here's what you will learn:
How to follow UX design processes: how to define user pain points, how to ideate solutions, create prototypes and wireframes, test and iterate on designs, how to empathize with users,
You will learn to understand the basics of UX research, like research studies, usability studies planning, conducting user interviews, and analyzing and synthesizing research results.
Application of foundational UX design concepts, like accessibility, user-centered design and equity-focused design
You will get skills on how best to create a professional UX design portfolio that includes 3 end-to-end projects: a responsive website, a mobile app, and a cross-platform experience.
Through several well detailed videos, assessments, readings, and hands-on exercises, you'll learn UX design in-demand tools and how to effectively use these tools like Figma and Adobe XD.
Go ahead and check out the Google UX design certificate course.

2. Coursera
Coursera's Introduction to User Experience Design which was developed by the Georgia Institute of Technology, is a free, rapid, detailed and easy-to-follow course that is led by Dr. Rosa I. Arriaga. This course is mostly made up of videos, practical exercises, readings, and quizzes, the course covers all the important topics you require to learn UX design.
The 6 hours course focuses on introducing the learner to User Experience (UX) Design. This means that this course is most suitable for people who are looking to gain knowledge on what UX design is about – mostly UX design novices.
Here's what you will learn:
What your target user needs
Wow to design and model interfaces based on the user's needs
How to evaluate the design to ascertain that the user's goals and expectations are met
You will learn simple data-driven techniques which will help in your research and design processes.
3. SuperHi
SuperHi's Introduction to User Experience Design course is aimed at teaching UX design beginners to learn UX design skills they'll need to create practical, intuitive experiences for their users. The course is an affordable, introductory course which teaches students the basics of an iterative UX design process which includes user research, wireframing, prototyping, UI design, and user testing.
You will learn UX design and learn how to think and act like a UX designer and confidently work on design projects for yourself and clients.
Here's what you will learn:
You will learn what goes into a UX design process and how it is very different from a traditional graphic design process
Different research methods and how to simply convert insights into user journeys, user flows personas and site maps.
How to carry out a complete user testing with real people, gather feedback and make informed design decisions
You will learn UX design complexities like how to create wireframes, prototypes and going from wireframes to design, and creating consistent, effect designs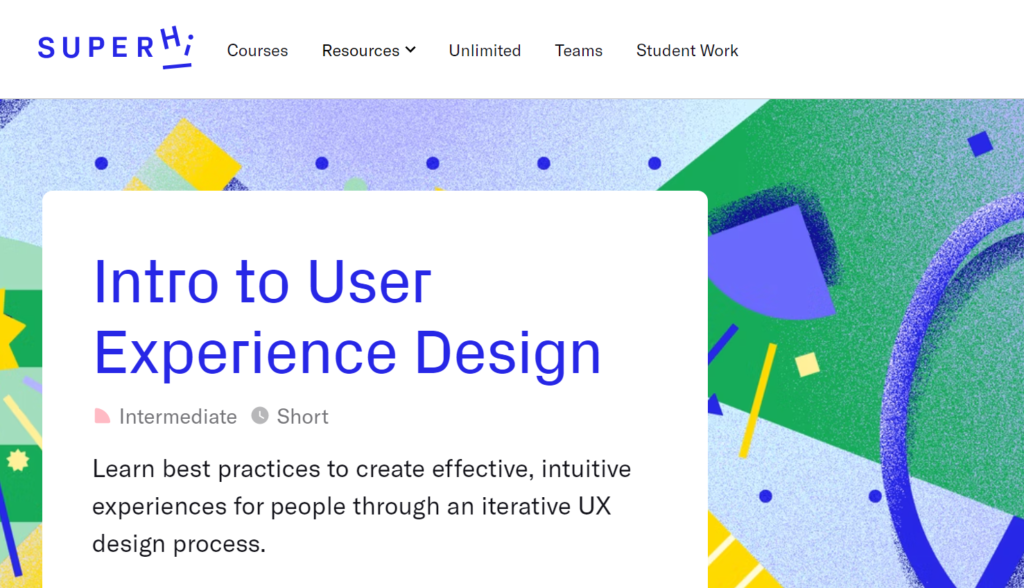 4. Skillshare
If you are just looking to test the waters and still have not decided on if you want to take the full dive to learn UX design or to invest into it. Skillshare is easily an option for you. Skillshare is centered around empowering people to learn creative skills with bite-sized lessons you can fit in anywhere, with offers of free sign-up and easy access on both web and mobile.
There are several UX design courses available on Skillshare like the intro to fundamentals of usability, and a range of other UX design courses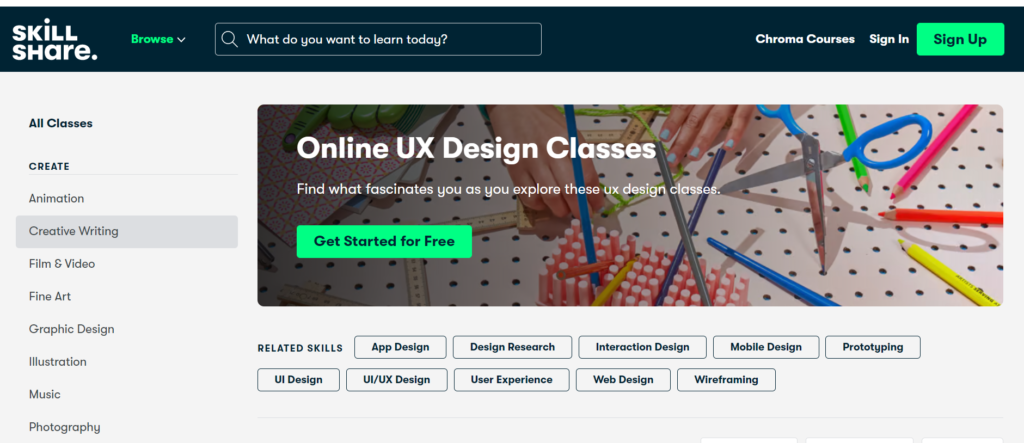 5. Udemy
Udemy's User Experience Design Fundamentals Course is taught by expert Joe Natoli, this course is an excellent choice for designers who are looking to gain further knowledge on how to use and learn UX design to scale business and produce great web and mobile apps. 
The 10 hours course with on-demand videos contains assessments which will let you apply what you're learning, so it sinks in. This course is set to equip designers with a complete understanding of how to practice and learn UX design from research to strategy.
Here's what you will learn:
Understanding the elements of UX
You'll learn UX design and understand how the elements of UX work together
You'll learn UX design and understand how strategy works as an element of UX
You'll learn UX design research processes
Learn how to Identify business goals, and user needs
How to create functional UX design specifications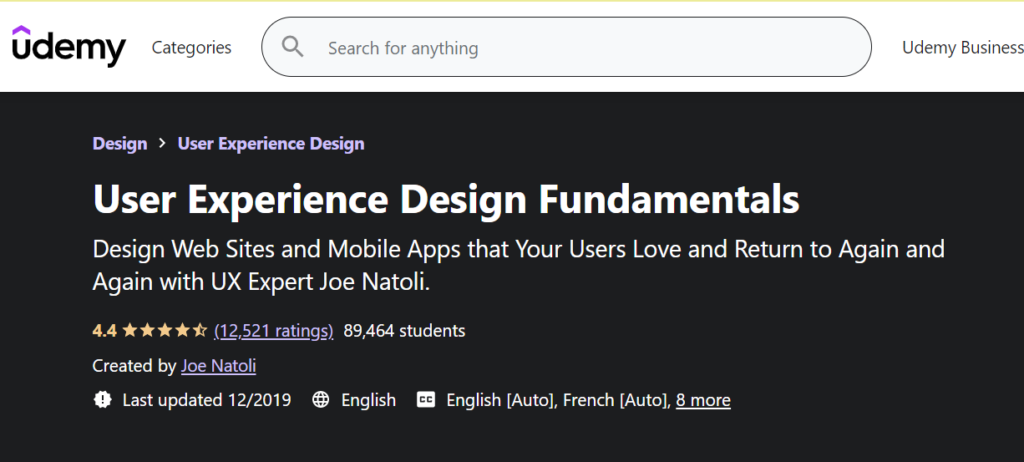 6. UX Academy
Taught by first-class tutors dedicated to helping you succeed, UX Academy's Beginner UX Design Course will teach you the fundamentals of user experience and will let you master the design process using a user-centric approach.
The part-time, eight-week course will equip you with all the right tools and methodologies that you need to succeed as a UX designer.
Here's what you will learn:
UX Principles
Design Workshops and Mapping
Discovery Research and User Interviews
User Testing and Project Iteration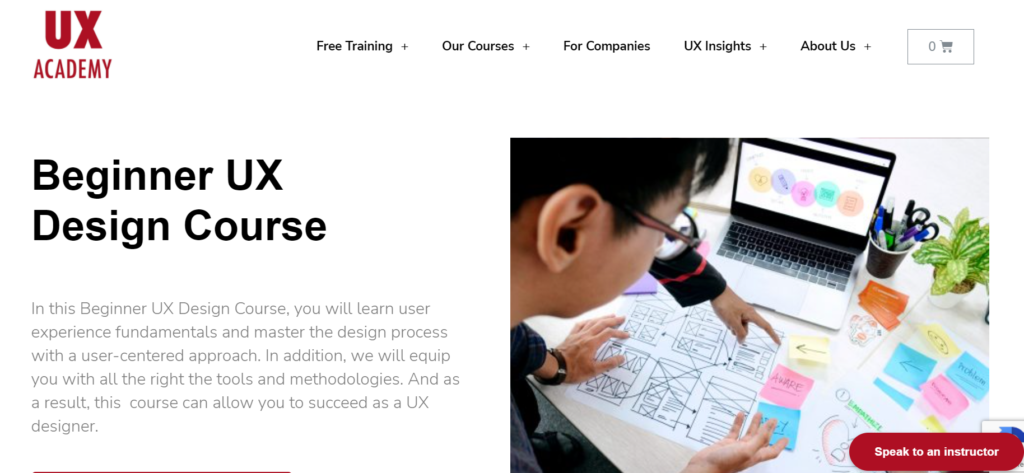 7. Lynda
Lynda contains over 4,000 courses taught by industry experts. Each of these courses is broken down into chapters and videos which averages about five minutes in length each.
Lynda offers different UX design courses on the platform including this nine-hour Advance your skills in UX design course, which has been well designed for those who are looking to sharpen and learn UX design in many details and improve their skills and also enhance their portfolio.
8. DesignLab
DesignLab offers both full-time and part-time online courses and teaches and lets users learn UX design skills through self-paced learning. DesignLab has a learning pattern where each student will have their own career coach who'll guide the student through their job search process after completing the course.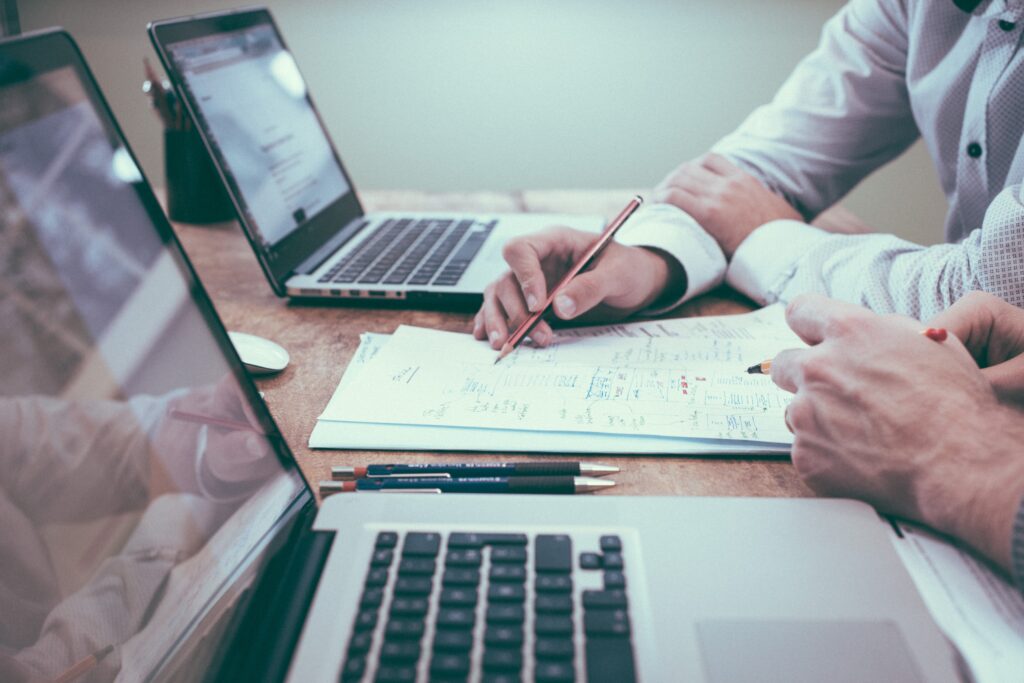 9. UXDesignEdge
UX Design Edge is created for coaching and consultations. This will help your team create awesome user experiences through practical, insightful, efficient, cost-effective design training and consulting.
10. SimplifiedUX
This is a product created to help UX designers at all levels improve and test their skills. With simplifiedUX, you can be sure to have a concrete background of how efficient your UX design skill is, you can improve these skills and set goals.
SimplifiedUX will also help you with creating a portfolio which is sure to land you the job of your dreams.