Staying ahead in your career journey as a freelance UX designer is not just an advantage but a necessity in today's competitive freelance market. One effective way to do this is to assess your design knowledge often. In this article, we will explore the 5 ways taking design thinking tests can be beneficial to you as a freelance UX designer.
This article will be beneficial to you if you are just beginning your freelance journey as a UX designer or have been a freelance UX designer for quite some time and not sure about how you perform in the job.
Assessment Benefits For Freelance UX Designers
1. Validation and Assurance of Expertise
As a freelance UX designer, credibility is key. Clients want to know that they are working with someone who not only claims to be an expert but can also prove it through their work. This is where assessing your design knowledge comes into play.
When you successfully complete UX assessments, you not only validate your skills but also assure yourself before facing clients that you have the necessary skills for the job. It's like having a badge of honor that signifies your commitment to excellence.
2. Identifying Strengths And Weaknesses
Self-awareness is a cornerstone of growth, both personally and professionally. When you assess your design knowledge, you're essentially reflecting on your skills.
These design knowledge assessments can reveal specific strengths you can leverage to create outstanding user experiences. They also shed light on areas that you might need further improvement. Getting insights like this is beneficial in letting you know your strengths and where to focus your learning efforts.
3. Continuous Learning And Growth
In the ever-evolving field of UX design, complacency is the enemy of progress. assessing your design knowledge encourages a culture of continuous learning for you as a freelance UX designer.
Each assessment presents you with an opportunity to explore new concepts, discover innovative techniques, and apply them to real-world scenarios. This ongoing process will not only keep your skills sharp but also set you apart as a designer who is dedicated to staying ahead in the industry.
4. Confidence Building
Confidence for freelancers is the cornerstone of a successful freelance career. The more confident you are in your abilities as a freelance UX designer, the more compelling your pitches and presentations become.
Psychologically, doing something right and seeing results from efforts boosts one's confidence. When you pass design assessments, you are not just earning a score, you earn a boost to your confidence. It is a way to prove to yourself that you have what it takes to tackle any design challenge that comes your way. This newfound confidence will then radiate through your work and interactions, ultimately leading to stronger client relationships and better outcomes.
5. Competitive Edge In The Freelance Market
In a crowded freelance market, standing out is important. Successfully completing UX assessments gives you a competitive edge over other freelance UX designers.
It serves as tangible proof of your expertise as certifications are sometimes rewarded after successful attempts. This is something that potential clients can see and appreciate. This can also be the deciding factor for your clients that will set you apart from other freelance designers. It is the mark of a professional who is not just talking the talk but has evident proof.
Assessment Platforms and Tools
There are a couple of UX skill assessment websites and software freelance UX designers can assess their design knowledge with, however, these two are top among designers for their feedback and the skill assessment they cover.
Uxcel App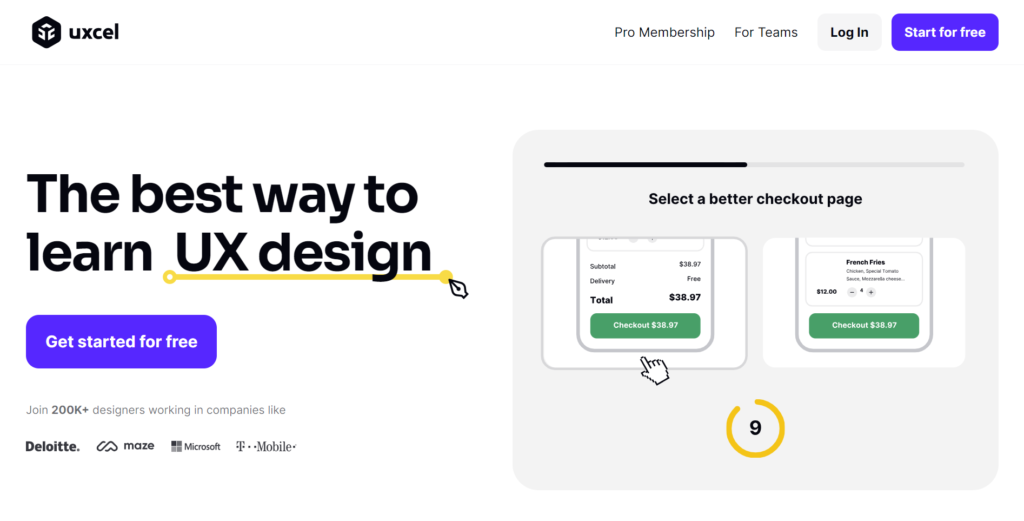 Uxcel is an industry-recognized platform for assessing UX skills. The platform offers interactive assessments for a wide range of UX design tools and industry-specific skills, such as wireframing, usability testing, and a lot more.
You can retake your assessments every 30 days (starter plan) or 7 days (pro plan) and get personalized feedback on your performance, highlighting your strengths and areas for improvement. You'll also earn a certificate of completion and gain access to job boards to increase your chances of getting hired.
Price:
Billed at $15 monthly and $96 annually.
SimplifiedUX App
While SimplifiedUX is not as well-known as some other UX skill assessment platforms, it is a go-to platform for designers who want to assess their skills on the go. The platform is mobile-friendly and covers a wide range of UX topics which is available to paid plans and limited with the free plan. Some available topics include user research and methods, prototyping and wireframing, UX principles, information architecture, interaction design, and visual design.
SimplifiedUX assessments are designed to be easy to take and understand, and you can take them as many times as you like. You will also get personalized feedback on your performance (highlights of your strengths and areas for improvement) and lifetime access to your results so you can keep track of your Improvement.
Additionally, SimplifiedUX users who rank high on the leaderboard gain access to recruiters.
Price:
Free plan
Billed at $5.99 monthly and $57.60 annually
To make the most of these resources, I encourage freelance UX designers to approach them with an open mind and a hunger for learning. Engage with the content, take notes, and actively apply what you learn to your design projects. Remember, these assessments are not just assessments, consider them opportunities for growth and they will be helpful in your journey to being a better designer.
Reservations About UX Skill Assessments
Assessing your design knowledge can be intimidating, especially if you're concerned about not performing as well as you'd like. It's crucial to remember that these assessments are meant to be learning experiences, not measures of your worth as a designer.
Embrace the process, and don't be discouraged by your initial score. Rather they should encourage you to do better on your next attempt after you have gone back to refresh your knowledge.
Let's Wrap It Up
As I mentioned earlier, assessments are not necessarily a measure of self-worth but an avenue to greatly improve your skills. Frequent skill assessments are a great way to develop a habit of continuous learning and growth which is essential in your career as a freelance UX designer.
Other Helpful Resources
If you want to know the difference between a UX case study and a Portfolio read, 3 major differences between a UX case Study and portfolio.
If you want to level up at your job, read 4 Proven Ways To Level Up Your UX Design Career In The Same Company.
If you want some projects to work on read, UX Design Projects For Beginners.