Getting your first client might be very challenging because potential clients want to see your previous UX projects but how do you have previous UX projects if you haven't gotten clients? It's like applying for an entry level job in which one of the requirements is to have years of experience, but how do you get the experience if you haven't worked in the past right? Well, thankfully, in the UX industry, many clients just want to see what you can do – your skills and capabilities. And the best way to showcase this is by creating a UX project by yourself and adding your UX project to your portfolio. 
So, whether you are looking for your first client or looking to expand your client base. you need to make sure your UX portfolio looks great and has newly designed and trendy UX projects. Clients will determine whether or not to give your jobs based on what you show them. As a UX designer, your portfolio is your showroom, so it's very important that it meets client standards.
A good looking portfolio is also not enough, your portfolio needs to be complete too! This means that your portfolio needs to contain different UX projects which showcases your flexibility and ability to handle different tasks and responsibilities. 
Here are different UX design projects to include in your portfolio
E-commerce Website
E-commerce is rapidly growing and this means that more clients are going to be looking for UX designers who can create a design that stands out from the crowd.
It is common knowledge that e-commerce websites are often hard to design from scratch. This is because asides designing an aesthetically pleasing website, you need to think more about the website's functionality. An e-commerce website should be created to function as the online version of a physical store.
The website needs features which allow visitors to move around and perform operations like how they would in a physical store – or even much easier. Features that allow users to navigate easily through the site's pages(store aisle), to select and put products in their cart, pay for them and check out while offering a seamless user experience.
For these kinds of UX projects, you want to also pay attention to the client's needs and ways to maximize conversion rate. You need to understand and add buttons and options that will drive user actions – a search bar that makes filtering and searching for products simple and intuitive, a product detail page that allows visitors to see the full information and details about each product. While metrics and functionality are a key focus of any good ecommerce site and takes priority, you need to also try to create a compelling and unique visual design which will set the site apart from the millions of other ecommerce sites on the internet.
For these UX projects. It's totally okay to either make up fictional clients that sell products you admire or you may choose a real life company whose ecommerce site you think needs a redesign.
You must also understand the expectations of the target audience as this will help you to prioritize user experience and also help optimize conversions. Determine what elements to use, button to add, should the checkout page have a back button? Are multiple call-to-action buttons needed, or is one enough? What does the colors say? How will the users feel about the landing page? You should be able to ask and answer these questions and more, when creating an e-commerce website.
One thing is certain though, you'll definitely wow your potential clients when you add an ecommerce website design to your portfolio as it's a great way to show how much UX design knowledge you have.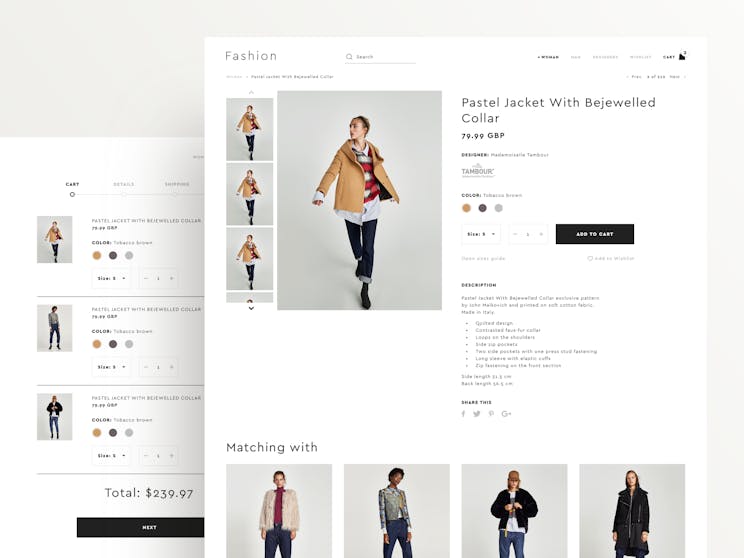 SaaS Website
Designing a software-as-a-service (SaaS) website is a good way to display your flexible UX design skills and make your portfolio pop. You can design and add both the user websites and admin dashboards. A software-as-a-service (SaaS) website is simply a website that offers products as a service. This means that like the e-commerce websites, aesthetics does not come first for the SaaS websites. The website needs to sell the product effectively.
According to Spot On, a great SaaS website needs to have a responsive design, be data driven, be target audience oriented and have the right call to actions, amongst other things.
Just UX Design skills are not enough for SaaS website UX projects. You will need to specifically understand consumers' behavior so that you can create designs that drive purchases and sign-ups.
You will want to consider adding some elements such as:
An overview of account with its current subscription and expiration date
Lists of product features and descriptions
Special links to product resources like FAQs, contact forms and blog
You also need to understand your client's pain points and the problem that needs to be solved, and then find a balance between your client's and user's expectations.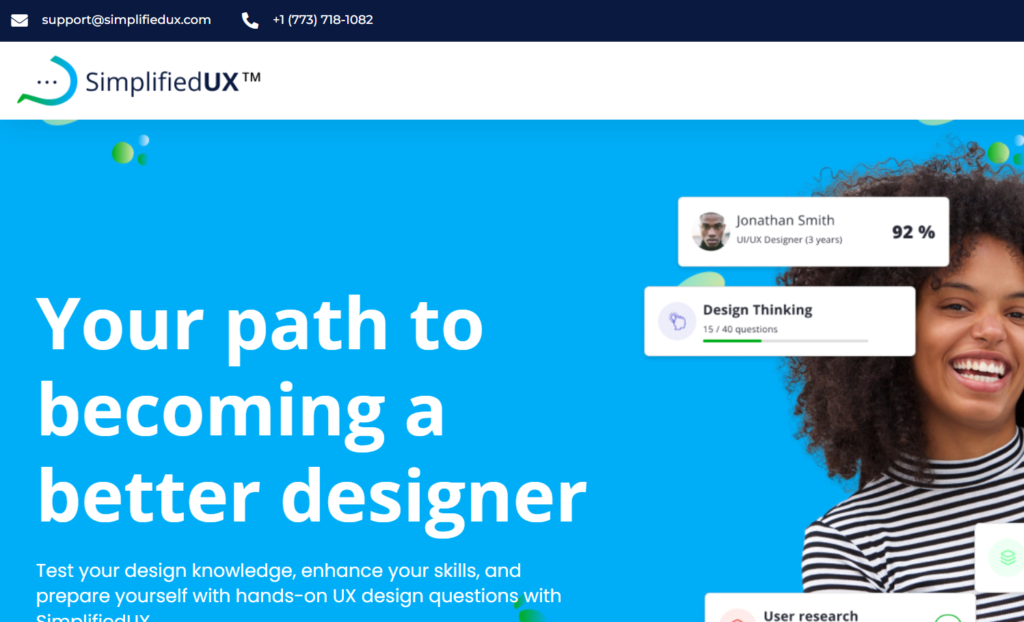 Mobile App
The signup process of a mobile app is an important step in the product's user experience journey and the experience a user has at this stage of the journey can significantly impact the entire user's perception. While creating these UX projects, You want to consider the user's needs and expectations and create a signup flow that is both functional and easy to navigate.
A mobile-centric project is a great addition to any portfolio. It shows that you keep up with trends, you understand that mobile designs are important and need to be rightly done.
Mobile app design is one of the most popular UX projects—and for good reason. Analytics shows that lots of people spend several hours on their phone per day, so being able to design simple and intuitive apps that delight users is a highly desirable skill set which clients will always look out for.
For these UX projects, you want to think about some of the problems you experience in your everyday life or the issues you've heard your friends complain about and how a simple app product could solve those problems. This could be as basic as a productivity or reminder app or as complex as a social network.
For this UX projects, you will need to design a simple onboarding flow, in-app screens, user dashboards and user profile accounts view.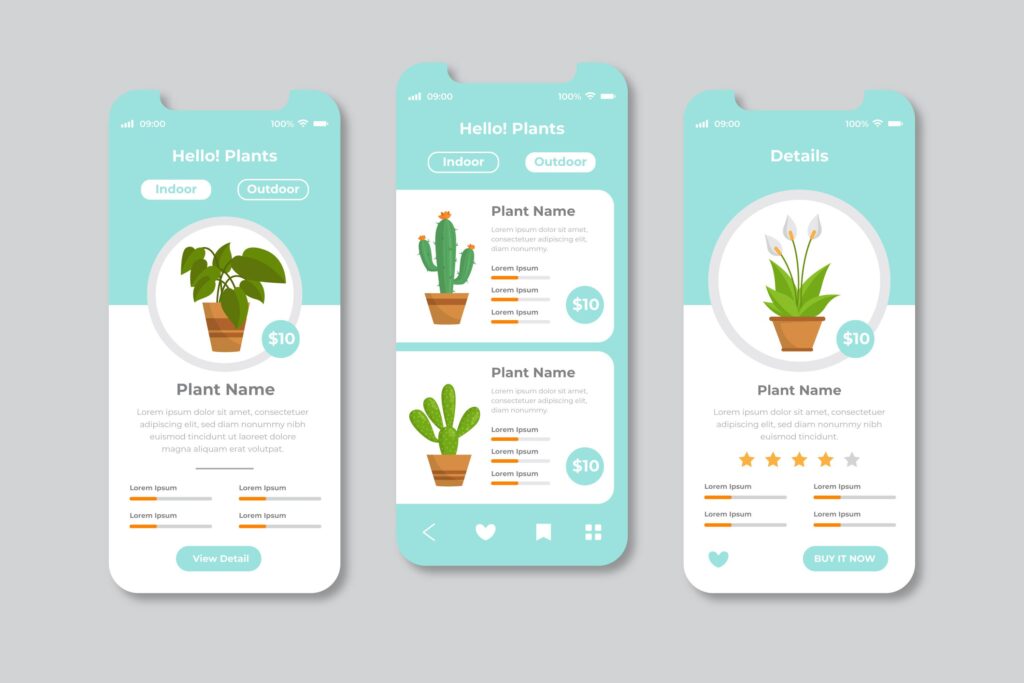 Blogging Website
Blogs are an important part of many companies' marketing strategies.Almost every company has a blog and this means that a potential client that looks at your portfolio, expects to see blog websites included.
While you may think that the availability of several DIY blog templates on website creation sites like WordPress, Wix, etc makes designing a blog from scratch no longer necessary. This is false and you need to think again. Your ability to craft a unique digital blog which stands out is a critical skill to showcase.
You'll show yourself to be skilled and an all-rounder by including this type of website in your portfolio. This also shows that you understand that every design is important and you have the skills needed to create a comments section which speaks to the needs of users, you can mix pictures with text, and easily increase conversions with carefully created opt-in forms and pop-ups, all while offering useful and engaging content.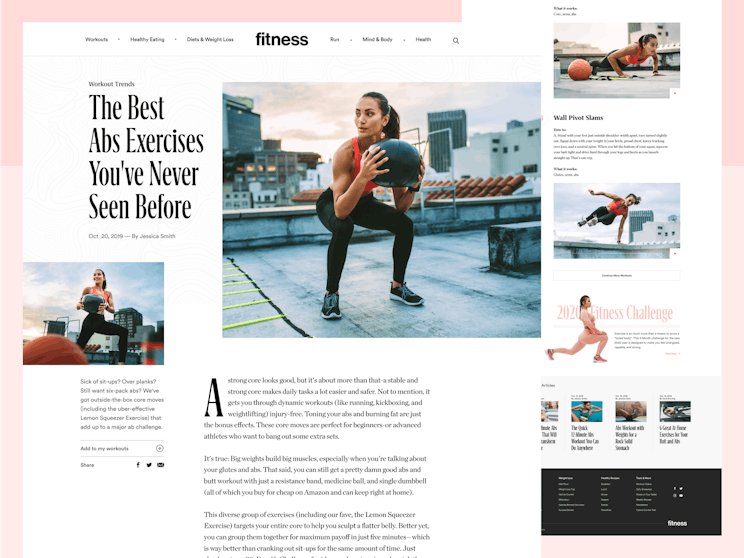 Chat App
Chat apps are increasingly popular, these can be in the form of live chat tools for customer service teams or a social media chat app. So it's important to include at least one chat app project in your portfolio. These kinds of UX projects will showcase your skills in conversational visual design and information architecture. You will also be demonstrating your ability to create engaging user experiences
When creating your chat project, it is better to design it as a part of a website, rather than for a standalone app. This will allow you to also show off your web design and user experience. You want to add screenshots of the chatbot in action including detailed wireframes and flowcharts which shows and describes how the chatbot works.
———————–———————–
Create a UX portfolio Website
Creating a portfolio website not only showcases your projects, its also one of the UX projects that you can add to your portfolio. A portfolio helps you get hired, and will help you to launch a successful career as a UX designer.
Ensure that your portfolio website is easy to navigate and contains clear descriptions of your projects and skills.